Choosing the Right Hosting Plan: A Guide to HostGator's Options
May 19, 2023
When it comes to building a website or launching an online business, selecting the right hosting plan is crucial. With numerous hosting providers available in the market, it can be challenging to determine which one offers the best features, performance, and value for your specific needs. One popular and reliable hosting provider is HostGator. In this article, we will explore HostGator's hosting options and guide you in choosing the right plan for your website.

HostGator is a well-established hosting company known for its robust infrastructure, excellent customer support, and a wide range of hosting plans suitable for different types of websites. They offer shared hosting, cloud hosting, WordPress hosting, VPS hosting, and dedicated server hosting. Each hosting plan has its own set of features and benefits, catering to different levels of website requirements.
This Article contains affiliate links, which means if you purchase the services of HostGator using our link, we get a certain commission! Thanks!
Shared Hosting
Shared hosting is an ideal choice for beginners or small websites with low to moderate traffic. With shared hosting, multiple websites are hosted on a single server, sharing its resources such as CPU, RAM, and storage. HostGator's shared hosting plans are affordable and easy to set up, making them suitable for personal blogs, portfolios, or small business websites. The three shared hosting plans offered by HostGator are..
Hatchling Plan: This plan allows you to host a single website and provides unmetered bandwidth and a free SSL certificate.
Baby Plan: The Baby Plan offers unlimited domains, unmetered bandwidth, and a free SSL certificate. This plan is suitable if you plan to host multiple websites.
Business Plan: The Business Plan includes all the features of the Baby Plan, along with a free upgrade to Positive SSL, free dedicated IP, and a free SEO tool. It is an excellent choice for e-commerce websites or websites that require additional security features.

Cloud Hosting
HostGator's cloud hosting offers scalability, reliability, and enhanced performance by distributing your website's resources across multiple servers. This ensures that your website has minimal downtime and can handle high traffic volumes. HostGator's cloud hosting plans come with integrated caching, multiple caching layers, and an intuitive dashboard. The three cloud hosting plans available are..
Hatchling Cloud: This plan allows you to host a single domain, provides 2GB memory, 2 cores CPU, and unmetered bandwidth.
Baby Cloud: The Baby Cloud plan offers unlimited domains, 4GB memory, 4 cores CPU, and unmetered bandwidth. It also includes automatic daily backups.
Business Cloud: The Business Cloud plan includes all the features of the Baby Cloud plan, along with 6GB memory, 6 cores CPU, a dedicated IP, and a free upgrade to Positive SSL.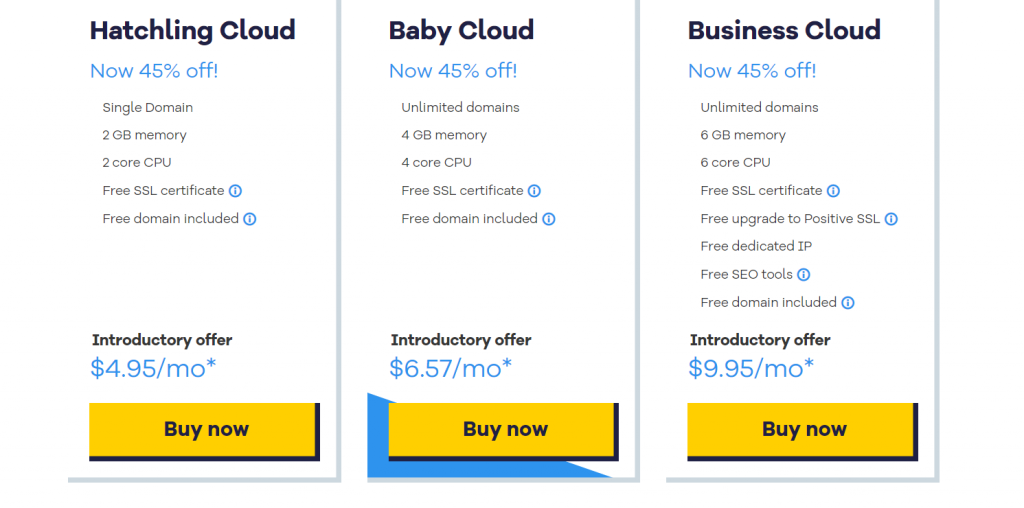 WordPress Hosting
If your website is powered by WordPress, HostGator's WordPress hosting plans are tailored specifically for optimal WordPress performance. These plans come pre-installed with WordPress, automatic updates, and enhanced security features. The three WordPress hosting plans offered by HostGator are..
Starter Plan: This plan allows you to host a single website, provides 100k monthly visitors, 1GB backups, and free SSL.
Standard Plan: The Standard Plan offers hosting for two websites, 200k monthly visitors, 2GB backups, and free SSL.
Business Plan: The Business Plan includes hosting for three websites, 500k monthly visitors, 3GB backups, free SSL, and a free upgrade to Positive SSL.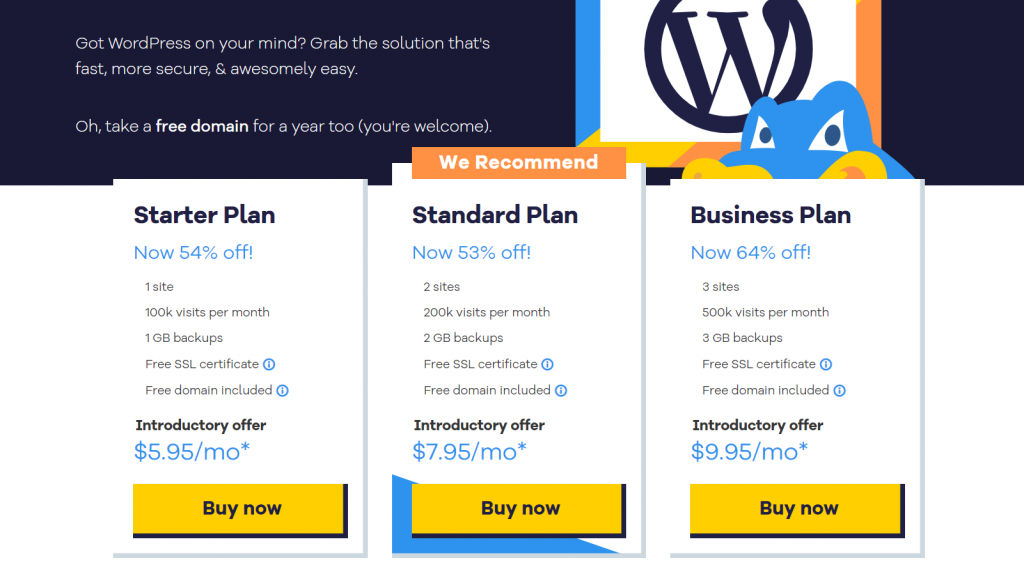 VPS Hosting
VPS (Virtual Private Server) hosting provides dedicated resources within a shared environment. It offers more power, control, and flexibility compared to shared hosting. HostGator's VPS hosting plans are suitable for growing websites or resource-intensive applications. The VPS hosting plans are divided into three categories..
Snappy 2000: This plan offers 2GB RAM, 2 cores CPU, 120GB disk space, and 1.5TB bandwidth.
Snappy 4000: The Snappy 4000 plan provides 4GB RAM, 2 cores CPU, 165GB disk space, and 2TB bandwidth.
Snappy 8000: The Snappy 8000 plan offers 8GB RAM, 4 cores CPU, 240GB disk space, and 3TB bandwidth.

Dedicated Server Hosting
Dedicated server hosting provides maximum control, power, and performance as you have an entire server dedicated solely to your website. This option is suitable for large businesses, high-traffic websites, or resource-intensive applications. HostGator offers four dedicated server hosting plans..
Value Server: This plan provides an Intel Xeon-D CPU, 8GB RAM, 1TB HDD, unmetered bandwidth, and three IP addresses.
Power Server: The Power Server plan includes an Intel Xeon-D CPU, 16GB RAM, 2TB HDD or 512GB SSD, unmetered bandwidth, and four IP addresses.
Enterprise Server: The Enterprise Server plan offers an Intel Xeon-D CPU, 30GB RAM, 1TB SSD, unmetered bandwidth, and five IP addresses.
Pro Server: The Pro Server plan provides the highest specifications with an Intel Xeon-D CPU, 30GB RAM, 2TB HDD or 1TB SSD, unmetered bandwidth, and six IP addresses.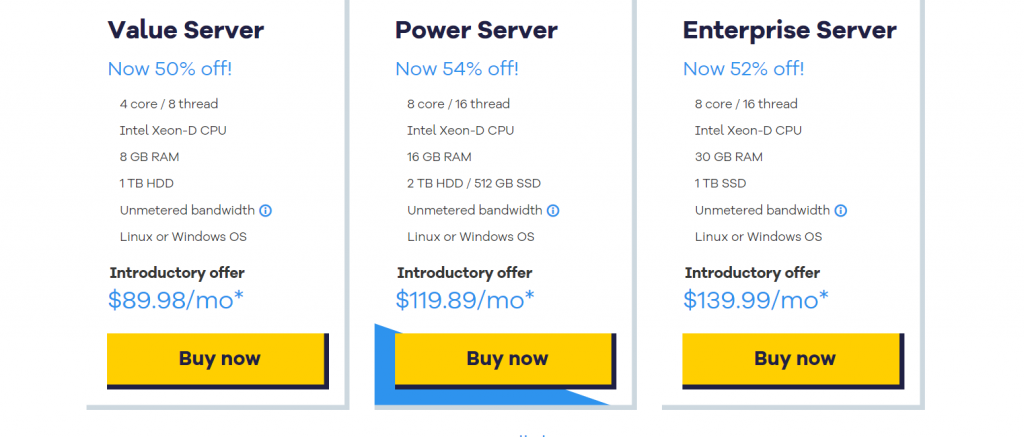 Additional Features and Benefits
In addition to the hosting plans mentioned above, HostGator offers several additional features and benefits to enhance your hosting experience:
Website Builder: HostGator provides an easy-to-use website builder that allows you to create professional-looking websites without any coding knowledge. It offers a drag-and-drop interface, customizable templates, and various design elements to help you build your website effortlessly.
Free Website Migration: If you already have a website hosted with another provider, HostGator offers free website migration services. Their expert team will assist you in transferring your website files, databases, and settings to ensure a seamless transition.
24/7 Customer Support: HostGator boasts a dedicated support team available 24/7 to assist you with any hosting-related queries or issues. You can reach them through live chat, phone, or email. Their knowledgeable staff can help you troubleshoot problems, provide technical guidance, and address any concerns promptly.
Money-Back Guarantee: HostGator offers a 45-day money-back guarantee on their hosting plans. If you are not satisfied with their services within the first 45 days, you can request a refund, excluding any domain registration fees or additional services.
Scalability Options: As your website grows and requires more resources, HostGator offers seamless scalability options. You can easily upgrade your hosting plan to accommodate increased traffic, storage, and processing power, ensuring your website remains fast and accessible.
Security Features: HostGator prioritizes the security of your website. They provide free SSL certificates with their hosting plans to ensure encrypted data transmission. Additionally, they offer advanced security features such as automatic malware removal, website backups, and DDoS protection to safeguard your website from cyber threats.

Considerations for Choosing a HostGator Plan: To select the right HostGator hosting plan for your website, consider the following factors:
Website Type and Purpose: Determine the nature and purpose of your website. Is it a personal blog, an e-commerce store, a portfolio, or a resource-intensive application? This will help you identify the hosting plan that aligns with your specific requirements.
Traffic and Resource Needs: Estimate the expected traffic volume and resource needs of your website. Shared hosting is suitable for low to moderate traffic, while cloud hosting, VPS hosting, or dedicated server hosting is recommended for higher traffic websites.
Budget: Determine your budget for hosting services. HostGator offers affordable plans, but the pricing varies depending on the hosting type and features included. Choose a plan that offers the necessary resources within your budget.
Growth Potential: Consider the scalability options provided by HostGator. If you anticipate your website growing rapidly in the future, choose a plan that allows easy upgrades to accommodate increased traffic and resource demands.
Technical Knowledge: Evaluate your technical skills and familiarity with website management. Shared hosting and WordPress hosting plans are user-friendly and require minimal technical expertise, while VPS hosting and dedicated server hosting may require more advanced knowledge.

Conclusion
Choosing the right hosting plan is vital for the success of your website. HostGator's wide range of hosting options caters to different requirements and budgets. Whether you have a small blog, an e-commerce store, or a high-traffic website, HostGator has a hosting plan that suits your needs. Consider the type of website you have, its expected traffic, and the resources required to make an informed decision. By selecting the right HostGator hosting plan, you can ensure optimal performance, reliability, and support for your online presence