Hostinger Review – 1# Web Hosting? Really?
February 8, 2022
Who knew that a free web hosting service that started in 2007 would become one of the best and most affordable web hosting companies today. Hostinger has come a long way since its humble beginnings. By 2017, they had more than 29 million customers in 178 countries and are considered one of the most popular hosting companies today. With such a large customer base, it's no wonder that they offer a wide range of hosting plans to meet the needs of their customers. They have a plan for everyone from shared hosting and WordPress hosting to VPS and cloud hosting. All of their plans come with a free domain, SSL certificate, and email account. They also have a 99.9% uptime guarantee and 24/7 live chat support.
No other hosting company has been able to compete with Hostinger when it comes to shared hosting services. They provide the most affordable shared hosting plans with the most features. For example, their cheapest shared hosting plan starts at just $1.39 per month, possibly making it the most affordable hosting plan available. However, it needs a 4-year commitment to take advantage of the stated price.One-click installer, unlimited bandwidth, one email account, and 100GB data transfer per month are just some of the features you get with their basic shared hosting plans. It was a basic overview of Hostinger. Now let's see what else they have to offer in this detailed Hostinger review.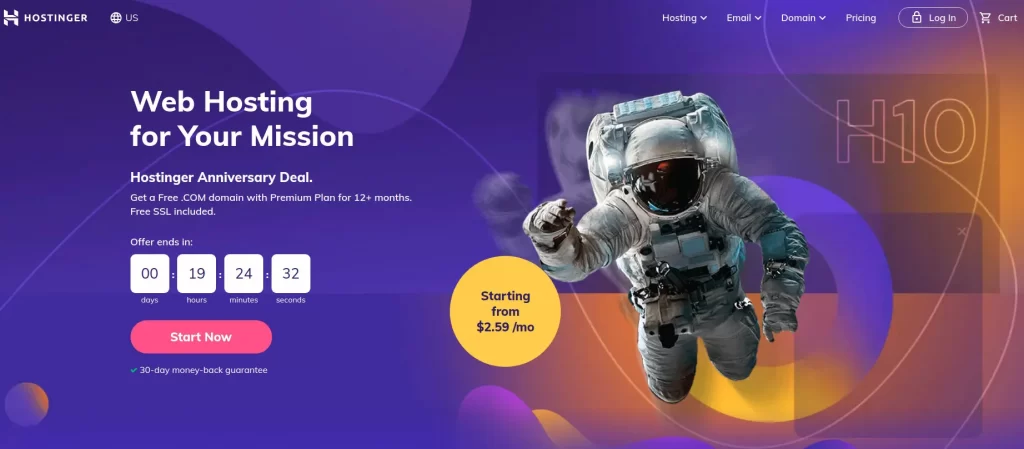 Hostinger Hosting Plans and Pricing
Basic Plan:
As the name suggests, this is Hostinger's basic plan and not exactly "full-featured". However, at $3.99 a month (and often less with one of their frequent promotions), you have to set your expectations realistically.
The Basic plan allows new webmasters to dive into the world of hosting with a convenient and affordable service that gets the job done. The plan only allows one website to be hosted on it, and the resources it allocates represent that. You can have 10 GB of data storage, 100 GB of bandwidth, 1 MySQL database, 1 FTP user and 1 email account. As you will probably agree – this is a pretty bare-bones package. If you only have one website and just need a place that will work without the bells and whistles, then this is a viable option.
However, the limitation of one email address can be a problem. Many small businesses will only have one website but may have multiple emails. If this sounds like you, then you'll need to look at one of the more comprehensive plans.
Premium Plan:
The premium plan is roughly twice the price of the basic plan, but it's an entirely different beast. It unleashes most of the functionality and power that Hostinger has to offer their shared hosting customers. It is designed for webmasters who have several sites (or who are serious about their speed). You can host 100 websites, use an 20GB of disk space, and eat up an unlimited amount of bandwidth. You can have as many MySQL databases as your websites need, and you can create 100 FTP accounts too.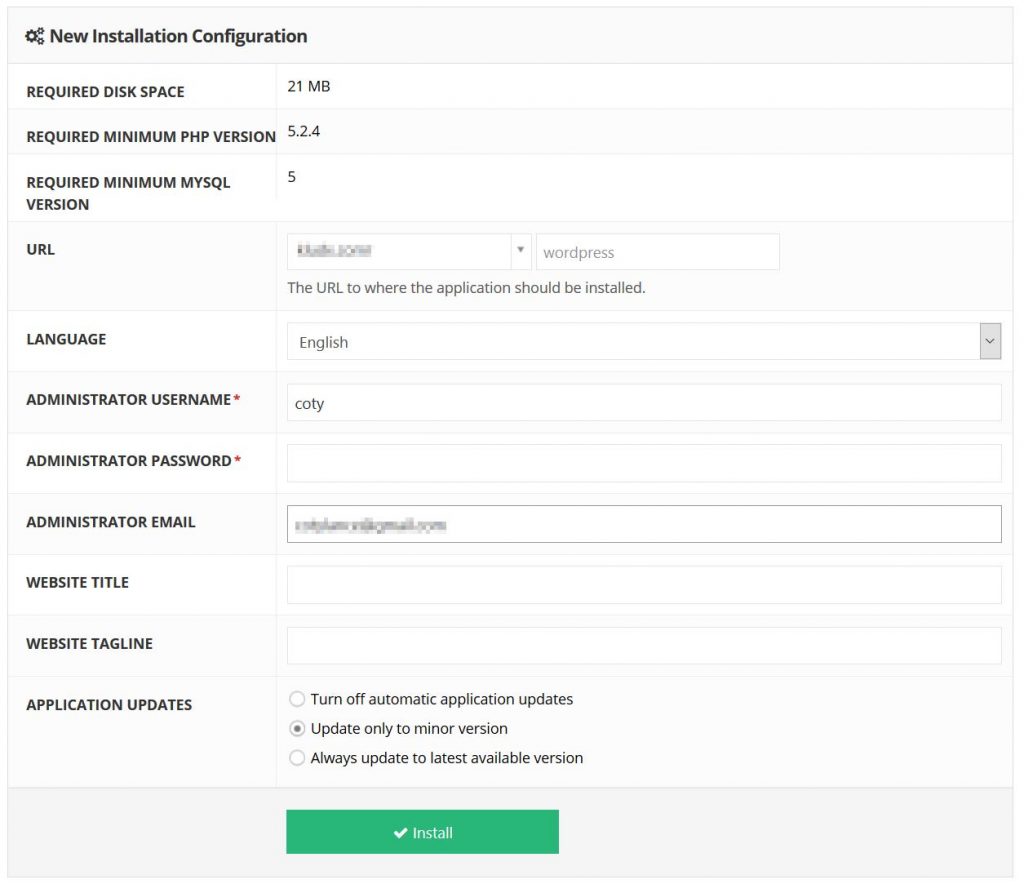 Many people stick with the premium plan to host most (or all) of their websites. It's a powerful fully featured plan that's more than capable of handling several medium sized average popularity sites that get thousands of page views per day. According to Hostinger, this plan can host ~25,000 monthly visitors, which is just under 1,000 visitors a day. In my personal opinion, it can host as many as 3,000 daily visitors if you don't have a bloated theme, unnecessary plugins, and you use a caching plugin.
As WordPress is the most popular CMS on the planet, Hostinger has optimized their premium plan with WordPress in mind. They've made some tweaks to their architecture and settings to ensure that their clients who use WordPress on their premium plan get three times more speed than those on their basic plan.
Business Plan:
Hostinger's business plan is the most comprehensive of all their shared hosting packages, and that's what we signed up for. It is also the most expensive. However, it's only $3 a month more than their premium plan and includes some exceptional features that will make it worth the money for many people.
Like the premium plan, this is a powerful package. In fact, everything that is included in the premium plan is included in the business plan. You still get a free domain name and a (paid) SSL certificate (and you can store and access as much data on as many domains as you want).
The most obvious difference between the business plan and the premium plan is the 100GB of SSD storage and better resource allocation. All Hostinger web hosting plans are hosted on the same servers. The only thing that separates them is the configuration and amount of resources they can use. Hostinger clients who opt for the business plan get double the RAM allocation and double the CPU allocation. That makes a huge difference in terms of performance. The premium plan is already an exceptionally fast option, but doubling it makes the business plan so fast it's almost silly.
But Hostinger doesn't stop there. If you use WordPress, things will be even faster. The 3X speed boost offered by the premium plan has been further increased to 5X speed boost in the business plan. Unless you have a lot of traffic (over 10,000 visitors per day), your site will run incredibly fast.
Hostinger business plan customers also get priority access to their premium support team. Live chat will connect you with a professional support agent who will take care of any issues and provide real-time assistance (meaning you don't have to wait for a ticket to be answered). Their team is fast, efficient and will resolve most issues within minutes. If you're new to the world of web hosting (or WordPress), this is a feature worth its weight in gold.
Hostinger Speed and Uptime
Hostinger had 100% uptime during our testing, which should come as no surprise. Each plan is backed by a 99.9% uptime guarantee, and while there are plenty of reasons not to trust the uptime guarantee, it lives up to it. If it falls below 99.9 percent availability in any month, you can claim up to 5 percent of your monthly fee back.
We tested speed using Dareboost, GTMetrix, and Pingdom, and Hostinger had decent results overall. It received a grade of C (around 70 percent) in all three tests. While this isn't very impressive, there are many factors that play into how quickly your page loads, not all of which are on the web host's shoulders. Although our results were not up to our fastest web hosting standards, the reasons for them were based on our website optimizations. For example, each tool suggested reducing the image size to reduce the amount of data that needs to be transferred. With careful planning and strategic optimization, Hostinger can be fast. It may not be the fastest option out of the box, but it usually is. The last time we tested Hostinger, it had mediocre results, but this round of testing was impressive, if not the best we've seen.
VPS Hosting:
Hostinger's VPS plans provide a way for webmasters to obtain unbeatable reliability and speed on a reasonably low budget. They currently offer 6 plans which range from $9.95 through to $79.95 per month.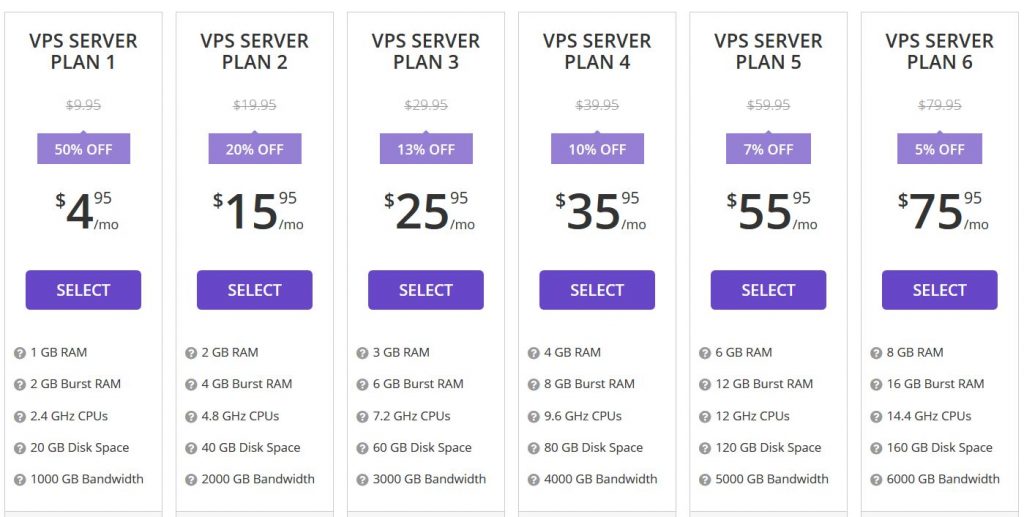 With each plan, the specifications improve upon the last. Ram ranges from 1 GB through to 8GB (2GB to 16GB burst) and the CPUs range from 2.4 GHz through to 14.4 GHz. Storage space is generous on even the lowest level VPS plans that have 20 GB of SSD storage, the highest levels will provide you with a whopping 160 GB of SSD space. Bandwidth scales similarly starting at 1000 GB for plan 1 and going up to 6000 GB for plan 6.
If you know what you're doing and can manage a server, then it may be a better option for you to consider a level 1 or a level 2 VPS instead of one of the web hosting packages above. This is mainly because you've got a much greater level of resource isolation with a VPS than you do with shared hosting. Shared hosting plans require webmasters to be on their best behavior, one account overusing resources can slow down the entire server for everyone. With a VPS you're sharing a server with a much lower number of people, and more importantly – Hostinger ensures that your resources are ring-fenced.
This means that you're going to be guaranteed the performance associated with the RAM and CPU power of the plan you've picked. It doesn't matter what the other VPS accounts are doing on the server – you've got reliable and predictable stability.
Cloud Hosting: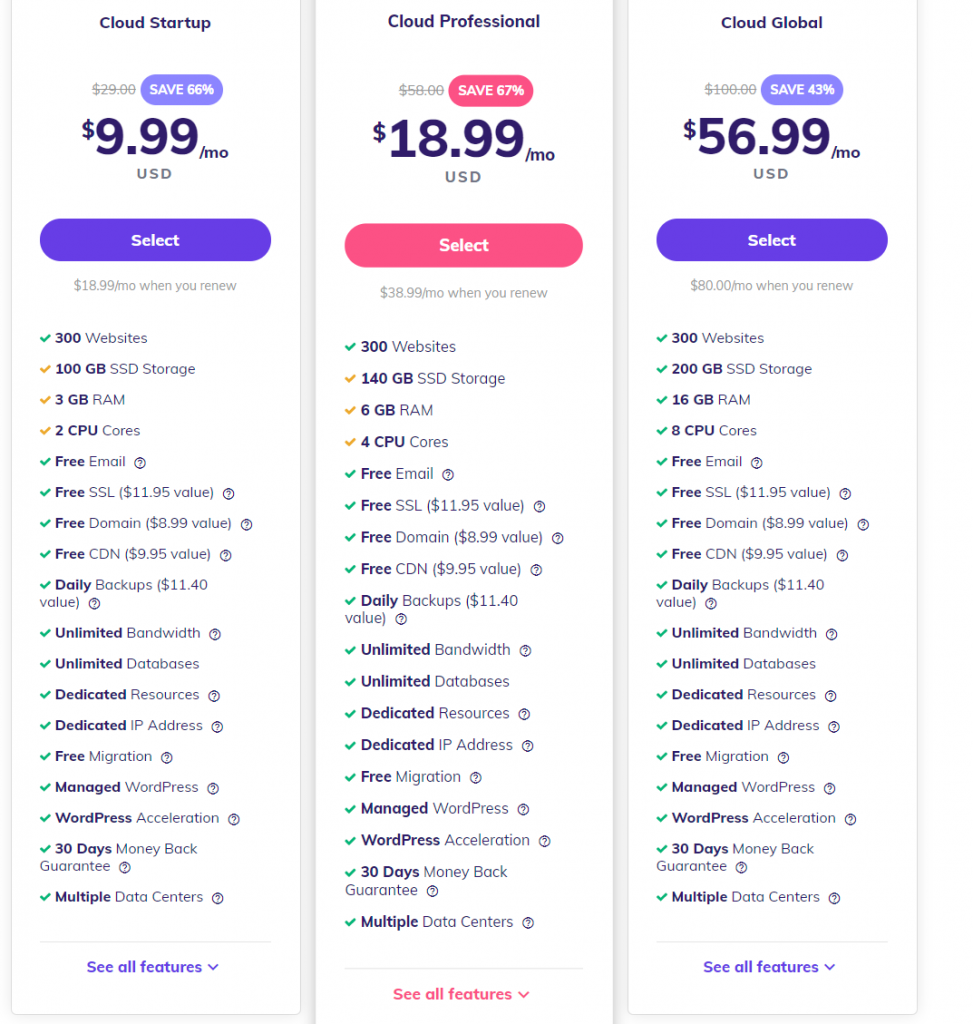 Hostinger has done a similar marketing gimmick with their cloud hosting as with the WordPress hosting we mentioned above. Their cloud hosting is actually their VPS hosting just under a different name. This is fairly standard practice among budget hosting companies. Just be aware that it's the same thing that delivers the same performance and seamless scalability.
Support:
If you need help, you can contact Hostinger support via live chat. They also have detailed documentation where you can find answers to most of your questions. Their learning database contains 680+ help articles and 500+ video tutorials. They don't provide phone or email support, so keep that in mind if you don't participate in live chats.
Final Verdict
Hostinger expanding its services. In the short time since we've been testing it, it's grown to accommodate a wider customer base while maintaining the user-first approach we used to love so much. From features to support, Hostinger is one of the best web hosting providers around. This means it still lacks powerful options like dedicated hosting for customers who need it. Its services have expanded, but not enough to suit everyone. However, this is neither good nor bad. It could provide top-notch hosting, but the niche it fills calls for a quality, independent option. Hostinger is it.