Elon Musk says that Twitter will start sharing ad revenue with creators 'today'
February 4, 2023
Twitter's new owner is making moves to build in more revenue streams for creators — or at least he's tweeting about it.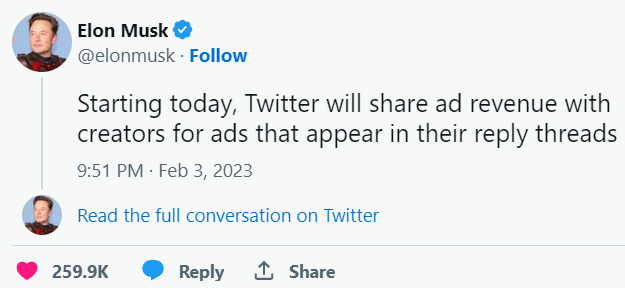 Elon Musk announced Friday that the company would soon begin sharing advertising revenue with creators on the platform for the first time. The catch? Eligible users must be signed up for Twitter Blue, which starts at $8 a month.
The other side of the coin is that Twitter plans to begin serving ads in replies, a change that could clog the platform with sponsored content and invite even more reply spam.
Twitter was slow to warm up to the creator economy, but the mostly text-based social app eventually got on board. The company introduced a handful of features in recent years to help content creators earn money, including Super Follows, Ticketed Spaces and a special monetization dashboard.
Twitter's creator features emphasize connecting creators and their followers directly with monthly paid subscriptions and ticketing, but Musk is apparently interested in adding an advertising revenue share into the mix.
YouTube has long split revenue with its creator community and is generally regarded as the best place to reliably make money from videos. The company pays out 55% of revenue earned through on-channel ads and recently introduced revenue sharing for its short form TikTok competitor, YouTube Shorts.
Other companies, most notably Meta, have been slow to adopt this monetization model. TikTok only announced its own ad revenue sharing program mid last year with TikTok Pulse, though the offer was only extended to accounts with at least 100,000 followers — a lofty cutoff. The ad revenue sharing model is even less common on platforms that emphasize text rather than video.
Recent tweets suggest that Musk wants to position Twitter as a creator haven that can compete with YouTube, but the platform has far less of a foothold in video and it's far from clear that the company can build out resource-intensive video features while the platform's most basic functions are already deteriorating.
"Let's see what happens when Twitter offers good video with higher compensation for creators," Musk wrote in a reply to MrBeast, YouTube's most-followed user.
This week alone, many Twitter users flipped their accounts to private after anecdotal reports suggested that some people were seeing less engagement following changes to the recommendation algorithm. Other bugs, like retweets incorrectly displaying as deleted, have been popping up regularly and mostly lingering.
It's also not clear that Twitter actually has the means to begin sharing its ad revenue with creators. That change would present an entirely new monetization option, presumably one that requires quite a bit of building on the back end to track, calculate and pay out a user's cut of the ad revenue from their reply threads. To date, Twitter's monetization options for creators have stuck to relatively simple direct payments for tickets and subscribers.
We've yet to witness any evidence that this ad revenue sharing program is active in the wild on Twitter, but we'll be tracking the changes, how they impact creators and what comes of Musk's quixotic plans to flip Twitter into a YouTube competitor.