Apple Vision Pro headset is the ultimate tech: Here's what it can and can't do
June 9, 2023
Going by the keynote, Apple's new Vision Pro headset is something of a technological wonder, with some touting it as an all-in-one device that seamlessly integrates the features of an iPhone, an iPad, and a Mac into a single device. It introduces "spatial computing", a new way of interacting with software in a 3D environment, where users can see and manipulate virtual elements around them. Let's take a look at it what this piece of hardware is capable of and where it lacks.
What the Apple Vision Pro can do
The Apple Vision Pro combines the virtual and real worlds
Since the Vision Pro is an augmented reality device, it combines the virtual world with the real world, displaying visual elements on top of the scene around you. Apps will appear as if they are floating in the space around you. While you will likely still be connected with the real world most of the time, certain actions like watching a movie may cut off your view completely for a more immersive experience.
The Apple Vision Pro can play audio on its own
An image of a model wearing the Apple Vision Pro headset. (Image credit: Apple)
The Apple Vision Pro doesn't need any additional audio hardware for audio output as it features "dual driver audio pods" on either side of the headband. These speakers project sound with Apple's Spatial Audio in a way that makes it feel like the sound is being emitted from the surrounding environment.
The Apple Vision Pro can play 4K content in its full glory
Apple says that the Vision Pro produces "Real 4K" resolution with its micro-OLED displays, which if lives up to its claim, should provide details comparable to a large 4K monitor. Due to the close proximity to the eyes, VR headsets may struggle to provide high-res imagery, which is necessary for details in games and movies.
The Apple Vision Pro can fit various head shapes and sizes
At the WWDC event, Apple went to great lengths to explain how the Vision Pro has been designed to fit most head shapes and sizes. Around the back of the headset, there's a band that can be easily swapped out and a dial for adjusting the tightness. Even the Light Seal, the cushiony part that rests around your eyes comes in a variety of shapes and sizes for that perfect fit.
The Apple Vision Pro still keeps your eyes visible
The Apple Vision Pro tries to not only keep you in touch with your surroundings, but also lets people around stay connected with you as well. It features something Apple calls "EyeSight" which essentially turns the front display into a window to the part of the face resting behind the headset. In other words, people approaching you will still be able to see your eyes. More engrossing apps and functions may hide your eyes, though, to indicate that you are busy.
The Apple Vision Pro can compensate for prescription glasses
If users are wondering how their glasses will be worn under the headset… it's probably impossible, but you won't need to either. Apple has partnered with German opticals manufacturer Zeiss to create magnetic lenses for prescription wearers that connect to the inside of the headset.
The Apple Vision Pro can scan your eyes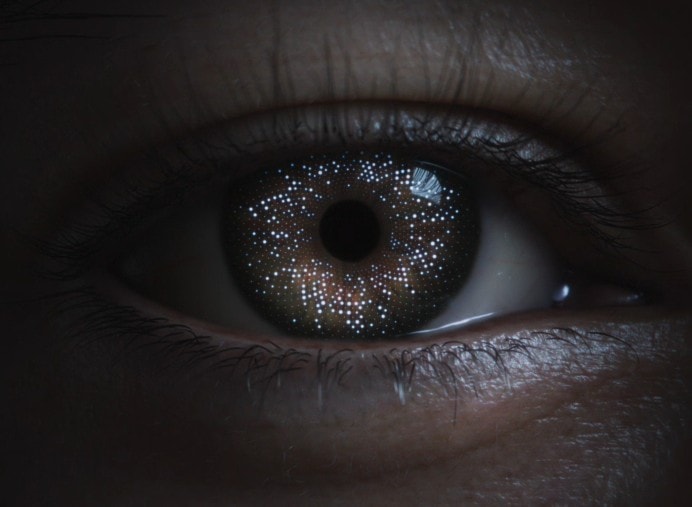 Apple users are already more than familiar with FaceID, but at the WWDC event, the company unveiled a new form of security authentication – Optic ID. Since the Apple headset cannot see your entire face, it will authenticate by analysing a user's iris. The captured data will then be compared with the enrolled Optic ID stored on the device's "Secure Enclave."
The Apple Vision Pro can still Facetime
While the Apple headset cannot directly scan your face while it's worn, holding it at a distance pointed to your face can help it create a realistic digital avatar. The Vision Pro scans your face using its depth-sensing cameras and then uses that data to create a digital avatar which can be used in Facetime calls.
What the Apple Vision Pro can't do
The Apple Vision Pro cannot be used for long without a power source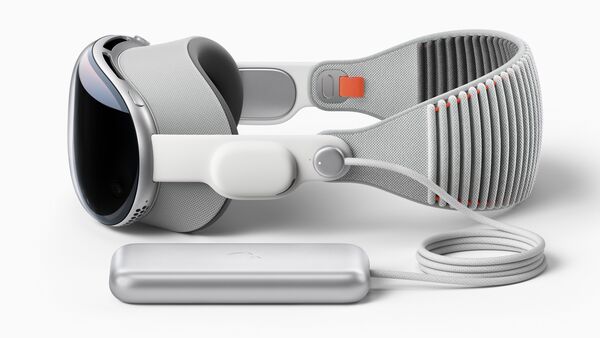 The Apple Vision Pro is a device that demands a lot of power from its various features, such as its high-res display and multiple sensors and cameras. That's why it's meant to be used with a power outlet nearby. It does come with a battery pack but that only supplies power for 2 hours before running out, which is just enough for a movie shorter than 2 hours.
The Apple Vision Pro's battery cannot be seamlessly switched for another
Don't expect to easily replace the battery pack on the Apple Vision Pro when it runs out of juice. The device doesn't have an internal battery, so the battery pack is the only thing keeping it alive when you're away from a plug. If you switch the battery pack in the middle of an online game or a movie, you'll probably turn off the device and lose your progress. You could try to connect another battery pack, like a power bank, to the original one, but that would be inconvenient to carry around.
The Vision Pro doesn't come with controllers
The Apple Vision Pro doesn't come with specialised controllers, unlike Meta's headsets. That's because it doesn't need them. The headset features outward-facing cameras that read your hand gestures while inward-facing cameras scan your eyes for cursor control. You can still attach Bluetooth devices like a keyboard and mouse for a more desktop-like experience if you wish to, though.